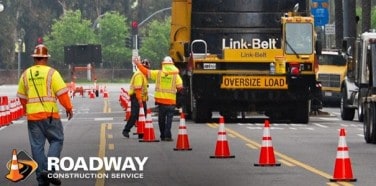 So many components go into the development of a sound traffic control strategy that it's hard to pinpoint the most important. Which one is it? Certainly, one of the most crucial elements in the mix is a certain team of experts – the ones carefully selected for the duty of protecting people and property during a work project – the traffic guards. Roadway Construction Service recognizes the importance of these experts. We therefore offer clients what we feel are the most capable traffic guards for hire anywhere on the planet.
Call: (855) 907-7233
Also known as flaggers, these guards have experience and skill to spare. These assets ensure that all traffic situations remain orderly and safe. Not an easy task when you consider the sheer variety of possibilities. But our guards manage to get the job done. As a result, projects are completed with minimum delay and maximum cost effectiveness.
Traffic Control Flagger Service
What does it mean to a client when they can count on our flaggers to help minimize delays? A great deal. Think about it. Even a few extra hours of work time can take a significant bite out of a budget. Now multiply these minimal hours by days or weeks, and the costs skyrocket. When you choose our traffic guards for hire, you needn't worry about these troubling overages. Our team of flaggers consistently arrives fully prepared for every possibility. And even when a few surprises emerge, they have the quick reflexes and in-depth experience to respond appropriately.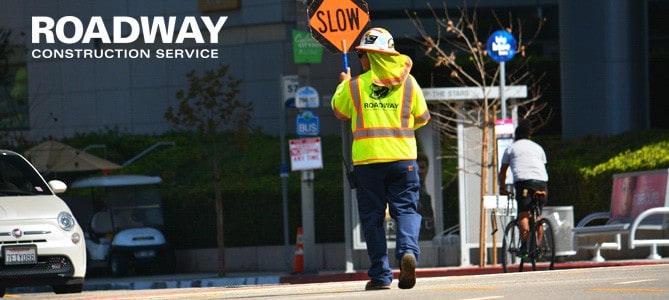 By supplying a first-rate team of traffic flaggers for hire, we provide clients with something extra — an excellent team of communicators. But don't expect a lot of street talk. Given the often noisy conditions of a work zone, it's impractical to vocalize the many important messages that flaggers may need to relay. Instead, they rely on distinctive hand signals and brightly colored signal flags to get their message across.
Bear in mind, traffic flaggers must have enough proficiency to 'talk' on two levels. First, there's there communication with each other, alerting their cohorts of approaching traffic and other important developments. Additionally, they must signal motorists, pedestrians, and any other passersby, keeping them away from potential hazards and on a safe path to their respective destinations. Clearly, when it comes to maintaining safe and orderly temporary traffic control, these traffic guards are the very definition essential workers.
Road Barriers
Traffic guards carry out their duties in conjunction with specific traffic control hardware. These road barriers are a vital component of every traffic control system deployed by Roadway Construction Service. There's simply no better example of equipment and personnel working in perfect sync.
Fortunately, we've gone the distance to develop a road barrier rental program that meets a full spectrum of needs and contingencies. We cover everything from work zone traffic control to emergency areas facing major challenges such as burst water pipe and resulting street flooding. No matter what problem needs solving, we've got the right hardware for the job.
Indeed, our program of traffic guards for hire and road barrier rental forms in impressive foundation for our widely recognized system of traffic management. No matter what challenge you're confronting, you can rely on this system to help you tackle it with complete confidence.