Temporary Traffic Control Strategies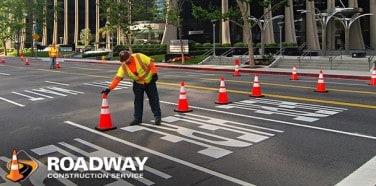 What do you need first when providing temporary traffic control? Equipment? No. That'll have to wait. Expert field personnel? Important, obviously. But still not first on the list. No, the number one element is the development of a traffic control strategy. For this necessary cog in the machine, look no further than Roadway Construction Service. We're proven experts in the art and science of temporary traffic control strategies. Just ask our customers.
Call: (855) 907-7233
Strategies don't just happen by magic. A solid blueprint requires expertise and experience. Lots of it. Fortunately, we're well stocked in this department. Nothing less will do. That's because strategies are all about preparation. There's a whole lot to juggle. And only proven experts can do the juggling.
Temporary Traffic Control
How does a solid temporary traffic control strategy get off the ground? The first step is the acquisition of information. Our team utilizes a variety of resources to get this done, grabbing a ton of important work site data in the process. Many questions are asked. What are the expected conditions? The hazards? Traffic flow? Pedestrian density? Eventually, projections are made, and a strategy starts to take shape. At this stage, the team identifies a range of solutions needed to manage the project from start to finish. These are chosen and coordinated to mesh with the prevailing conditions of the work site.
Among the assortment of solutions are traffic barriers. Designed for a variety of situations, these are an important component of virtually all temporary traffic control services. But don't expect the same old same old. Barriers are available in a full spectrum of sizes, from the small to the large.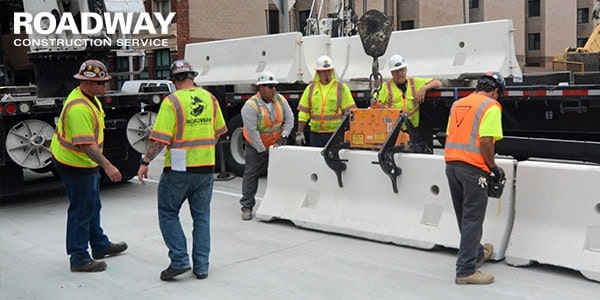 K Rail Road Barriers
The most massive of road barriers is K-rail, both concrete and water filled. How do our strategists know when K rail should be deployed? It all comes down to function. When a project requires a wall-like structure to keep traffic out of restricted areas, K-rail gets the call.
But that's not the end of the story. Our strategists still must determine which type of K-rail gets the starring role. Planners base their decision on project duration. If the job has a long timeline, concrete generally is selected. The reason is clear. Being rock solid, concrete K-rail is not easily moved in and out of position. Therefore, you'll want this wall only if it'll be on the scene a while.
Traffic Control Plans
In contrast, it is only for short-term projects that water-filled k rail becomes part of road and street traffic control plans. Its lightweight plastic shell allows for easy transportation, setup, and disassembly, making it perfect for very temporary use.
Traffic Control Personnel
As with barrier deployment, the selection of personnel also is a crucial part of road and street traffic control planning. Perhaps the most important of deployed personnel is our team of traffic flaggers. Communicating with both hand and flag signals, they provide frequent traffic updates to members of the crew, as well as to passing motorists and pedestrians.
The primary goal of traffic flaggers, of course, is to ensure ultimate protection for people and property by establishing the safest possible conditions. Thanks to their thorough training and natural ability, they consistently succeed in this goal.
Whether selecting personnel or barriers, our strategists must be tightly focused. Dozens of logistical details must be worked out as part of all temporary traffic control strategies. Is it a challenge? You bet. And we at Roadway Construction Service wouldn't want it any other way.