Concrete Blockade Service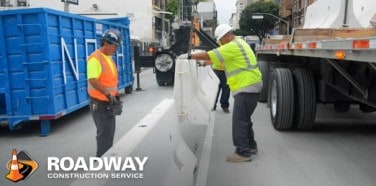 Keeping people and traffic safely separated is one of the major objectives of a concrete blockade service. At Roadway Construction Service, we consistently meet this objective with flying colors. We understand the importance of reliably strong road barriers. And currently, those made of concrete must be the most reliable of all. These are the barricades that get the biggest, most challenging jobs – the ones demanding a powerful block of hardware capable of keeping unauthorized vehicles and other outside elements safely out of restricted areas. By design, they must be impenetrable to anything coming their way.
Call: (855) 907-7233
Naturally, a concrete blockade service must do more than simply understand the value of road blockades. It also must possess the know-how to deploy these K-rail barriers with supreme accuracy. Therefore, precision is one of our overriding goals. It's easy to see why. If any deployed hardware is out of place, even slightly, the misplacement exposes a work zone to undue risks. Not on our watch. People and property must be protected. And the only way to ensure this level of protection is to be unfailingly accurate when setting up barriers. Nothing less will do for a first-rate service such as Roadway Construction Service. Our admirable track record demonstrates how serious we are about this.
Work Zone Traffic Control
Precision always has been a hallmark of our work zone traffic control blockade service. But this precision doesn't just happen by magic. We lack such powers and don't plan on having them any time soon. So instead, we were compelled to resort to the tried and true method of intensive training. You can bet everyone on our team has been subjected to the most rigorous training program on the planet. Upon graduating, these students know their stuff inside and out. When they tackle the task of deploying concrete barriers, they're guided by the wisdom and skill of a true master.
Concrete K-Rail Renal & Management
For the most challenging assignments, one type of concrete road barrier stands above all the rest – literally. This is the barricade known in the industry as K rail. It also goes by the illustrious name 'Jersey barrier.'
But no matter what name you slap on it, the barricade is an undisputed powerhouse of protection. Because of this barrier's unquestionable value, we've gone the distance to develop a uniquely versatile k rail rental program able to meet a variety of needs. No matter what the challenge or obstacle, you can count on our k rail solutions to maximize the safety of any work zone. Expect nothing less from Roadway Construction Service.
Given the size and weight of K rail, this type of road barrier primarily is used for long-term projects. After all, setting up a block of massive hardware does require a considerable investment of time.
So, what if we must service a temporary project? No problem. Our Jersey barrier rental program also provides water-filled K rail as needed. Made of a sturdy plastic shell that is transported and assembled with comparative ease, this barrier is the ideal solution when speedy setup and removal is a priority. Just fill the hollow plastic shell with water, and you've got an instant protective wall. All in all, this plastic version offers an excellent alternative to the impenetrable hardware supplied by our concrete blockade service.