Construction Traffic Management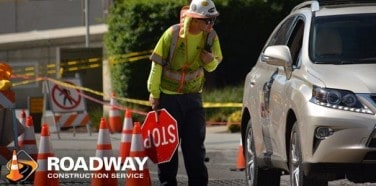 It's not an overstatement to say construction is booming in Southern California. From bridges and roads to high rise office structures of every description, a whole lot is being built, repaired, expanded, or refurbished in this (mostly) sunny region of the world. And there seems to be no end in sight. How can a municipality deal with the surge of activity and simultaneously keep the area's nonstop traffic flowing smoothly and safely? Only proven experts in construction traffic management can achieve this crucial balance. Roadway Construction Service, we're proud to say, has such expertise. In fact, we're loaded with it. Which is a major reason that we enjoy the gratitude of a long list of clients.
Call: (855) 907-7233
When taking charge of a traffic management construction site, Roadway Construction Service generally deploys a wide range of solutions to maintain safety and ensure efficient traffic flow. Road barriers are among the most frequently used of these solutions. Available in full spectrum of shapes and sizes, these necessary barricades are built to keep motorists and pedestrians safely out of restricted areas.
Temporary Road Barriers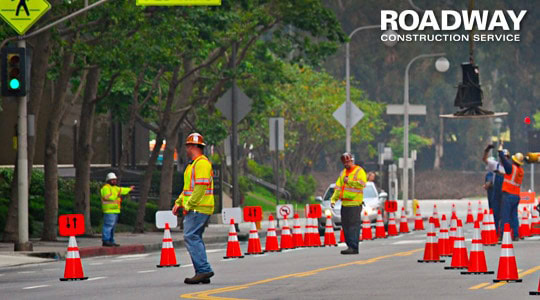 The largest of the road barriers in our lineup is k rail (a.k.a. Jersey barrier). A vital asset when providing traffic control management through construction zones, k rail is used for both long-term and short-term road traffic control assignments.
For short-term jobs, we use the easy to assemble and disassemble plastic Jersey barrier. Don't be fooled by this barricade's material composition, however. The plastic outer wall acquires tremendous strength and sturdiness thanks to its water-filled inner chamber. Concrete k rail, on the other hand, is considerably heavier than the plastic alternative. Of necessity, it's invariably deployed when a situation calls for a rock-solid solution intended for many, many days of duty.
Traffic Control Plan
How do we determine which of these two solutions — or any solution for that matter — will be deployed when providing traffic management during construction? Fortunately, this determination is made when our resident experts develop their construction traffic control plan. Employing sophisticated analysis and in-depth knowledge, this distinguished team consistently develops strategies that conform to the rigid local codes governing each work zone. They're helped in this endeavor by the long-time professional relationships they have with many decision-makers. Because of these relationships, our strategists understand the expectations of these municipal officials. This insight helps expedite every traffic management plan for construction sites.
Temporary Traffic Control
Along with planners, our team of field personnel are indispensable to the success of every temporary traffic control strategy we implement. Most visible of those in the field are traffic flaggers. Masters in the art of communication, these highly qualified flaggers utilize both hand and flag signals to guide nearby travelers, whether they're on foot or behind the wheel of a vehicle.
As is evident, our brand of construction traffic management pulls together and coordinates a wide array of crucial resources to achieve its objective. That objective is, as Roadway Construction Service continuously emphasizes, maximum safety and smooth traffic flow at every work site we service. Judging by the universal approval given by our clients, we regularly achieve that objective with flying colors.