Temporary Traffic Detour Permits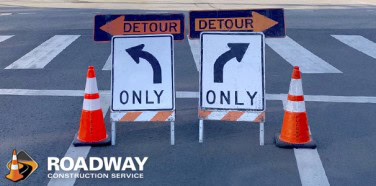 It's one of the most challenging, one of the most time-intensive projects that can come our way. We've all encountered them, cursed them, and dealt with them. But detours don't just happen. Many preliminaries must be attended to before we can even think about setting one up. One of these preliminaries is the acquisition of temporary traffic detour permits. Getting these permits is the difference between getting the job done or getting it delayed for who knows how long. We're pleased to say that Roadway Construction Service consistently gets these necessary approvals with plenty of time to spare. No costly delays when our team is on the job.
Call: (855) 907-7233
Permit acquisition is the responsibility of our road detour planning department, as savvy a group of strategists you'll ever meet. They've been trained to perfection, developing in the process a keen understanding of detour requirements. They're thoroughly familiar with the intricate codes and requirements governing detour setup and implementation. Their knowledge is applied with full force when formulating a workable traffic detour plan – something civic leaders and other decision makers can approve of without delay. When our team crafts a traffic control plan, you can expect quick, favorable results. Always a positive outcome when tight schedules must be met. Delays – we've never heard of them.
Traffic Control Permits
Familiarity with civic codes is only one reason for our uncanny ability to acquire traffic control permits in record time. The other influential factor is our familiarity with the major players – the people who ultimately provide the approvals. You see, our team has been at this game for quite a while. So we know many of the key municipal decision makers. As a result, we understand their expectations and readily can deliver solutions that meet their exacting requirements. This applies to every traffic control plan we develop.
Road Detour Management
Of course, developing a plan is only the first stage in road detour management. Part 2 is the actual implementation of all that deep thinking – the time for deployment of solutions, such as road barriers. You can be sure each temporary road barrier has been selected carefully by our planners. One likely to see action is k rail, which is commonly employed in detour situations. With wall-like strength, k rail is available in two types – concrete and water-filled plastic, each utilized for specific circumstances.
Roadway Construction Service uses concrete k rail when managing long-term projects. For good reason. Concrete isn't exactly the lightest material in the world. Therefore, it takes considerable time, effort, and expense to set up properly. Obviously, we want this barrier to remain put for quite a while.
Temporary Traffic Control Barriers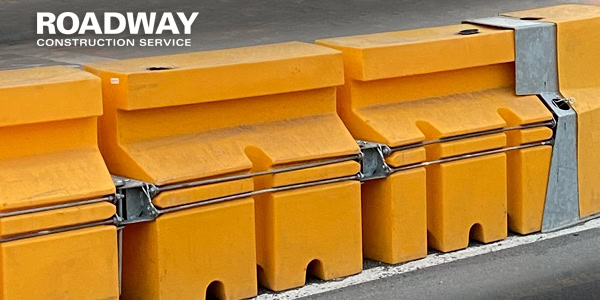 Plastic k rail, on the other hand, provides a different level of temporary traffic control – a barrier suited for brief assignments. Made of a sturdy plastic shell, this barricade is relatively lightweight. Thus, it's easily moved, set up, and disassembled. The perfect traffic control solution for short-term detour duty.
How can a plastic shell offer the kind of protective strength needed in a traffic control situation? Well, inside the shell is a chamber filled with water, which creates wall-like solidity for the entire structure. No question about it. Plastic k rail is both convenient and strong, making it the right solution for the situation. The result of perfect planning.
In fact, perfect planning is the foundation of all our traffic control services. Every plan covers the entire range of important details, such as temporary traffic detour permits. Thanks to this thoroughness, Roadway Construction Service has established itself as one of Southern California's premier providers of temporary traffic control services.