Riverside County Traffic Control Service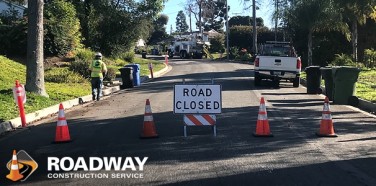 There's simply no way around this – Riverside County is one busy place. Plenty of construction, public events, and everything else under the sun. All seemingly taking place at once. To keep traffic flowing smoothly amidst the hustle and bustle, the area needs a reliable Riverside County traffic control service. The reliable provider , without question, is Roadway Construction Service. Thanks to a combination of experience, knowledge, and dedication, we keep the county in good order, night and day. You can count on that.
Call: (855) 907-7233
Our municipal traffic control service manages a wide range of projects, one of the most common being utility service jobs. Electric power companies keep us particularly busy, as they frequently must repair damaged, malfunctioning, or worn-out equipment and systems. Cell phone providers also keep us hopping, especially when cell towers need repairing. For all these jobs and more, we offer exceptional utility work zone traffic control services. Boom trucks, flaggers, barricades … they're all part of the program.
Traffic Management Services
While industrial and business zones demand much of our traffic management services, residential areas also benefit from our solutions. To meet the needs of these less-traveled areas, Roadway Construction Service offers an advanced program of temporary traffic control in California, including full coverage for Riverside County and beyond. Make no mistake about it. The quality of our residential traffic safety service is on a par with that of the much busier locales. This parity reflects our commitment to high quality service, no matter where we happen to be working. No job is too light or too large for our acclaimed team.
Traffic Control Barriers
No matter what the job or where it's located, traffic control barriers play a vital role in the maintenance of safety and efficiency. Every project is unique; therefore, the configuration of barriers must be uniquely suited to the job.
No problem for Roadway Construction Service. We offer a complete range of California highway barriers, from traffic control cones to concrete k rail rental. Equally important, we deploy the barriers with uncommon precision. Does the project require concrete or water filled k rail rental? How many? What about delineators? Questions like these must be answered to ensure accuracy.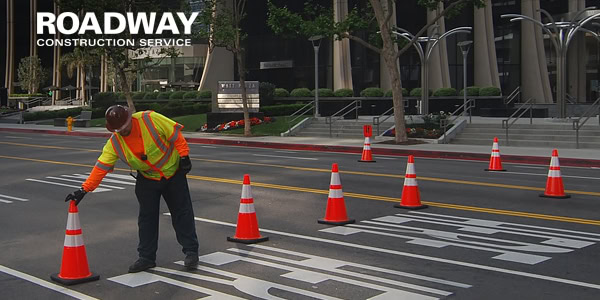 Precision barrier selection owes a great deal to the proficiency of our planning team. Known for their consummate analytic skill, these strategists weigh multiple variables and utilize their insights to devise iron-clad plans. The result is exceptional barricade management for Riverside County and all Southern California. Orange County, for example, benefits from first-rate Orange traffic barricade management. Ditto for all other SoCal regions.
Roadway Construction Service
Clearly, Riverside County is in good hands with Roadway Construction Service on the job. Known for our top-tier Riverside County traffic control service, we consistently meet the challenges of this super-busy region with flying colors. In fact, we're one of the most acclaimed traffic control service companies throughout Southern California. Construction project, public event, roadway closure … you name it. If it needs reliable traffic management, Roadway Construction Service can deliver. Something we've been doing for many years. Now imagine the knowledge we've accumulated in all that time. Just what your project needs.