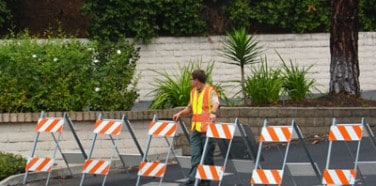 What's the most important component of a road construction project? Some people would claim that personnel deserve the honor. Others would say the distinction goes to the planning department. Still, there are those who believe that equipment is the standout winner. At Roadway Construction Service, we like to think they all matter equally. Therefore, we give each of these components our undivided attention. That certainly holds true when it comes to road work barriers. Selecting them is a serious endeavor. It must be. These traffic barricades are indispensable for the maintenance of control in project areas.
Toll-Free: (855) 907-7233
Selecting road barriers is an involved process. Many decisions must be made. First, there's the deployment decision. Which ones will be called into action? Not an easy task. Traffic barricades come in a variety of shapes and sizes, each with its own function and capability. For example, there's k rail rental (a.k.a. Jersey barrier rental). Here at Roadway Construction Service, we've developed an entire program for k rail rental. As is true of our other services, we've fine-tuned this operation to maximize performance and cost-effectiveness. Consequently, clients can count on complete reliability when they choose us for Jersey barrier rental.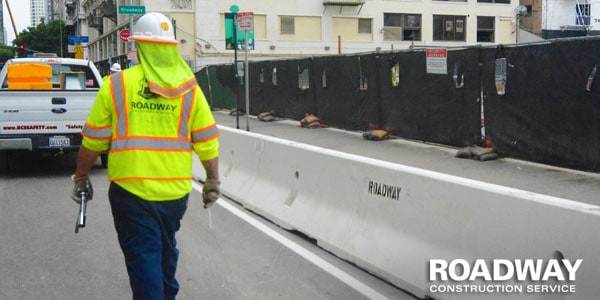 The selection of Jersey barriers and other traffic barricades requires careful evaluation. Countless variables must be weighed before final decisions are made. Much of the decision-making responsibility falls on the shoulders of our traffic control planning department. The members of this distinguished team have been well-trained for the challenge. They know the territory and know how to respond with effective, appropriate solutions. Thanks to their knowledge and skill, our traffic control planning efforts consistently lay the groundwork for success. Our track record speaks for itself.
An important aspect of the planning stage is the acquisition of permits. Every project, large or small, requires authorization from municipal decision-makers and leaders. A traffic control plan must comply with any number of codes, regulations, and rules. There's a world of details to contend with, many of these concerning the deployment of road traffic barriers. Unless you know the territory, you could be in for a grueling uphill battle. Luckily, Roadway Construction Service has perfected the art of permit acquisition. We understand the regulatory parameters and maintain solid, productive relationships with many civic and business leaders. As a result, our team consistently delivers air-tight plans that meet their expectations and conform to municipal codes.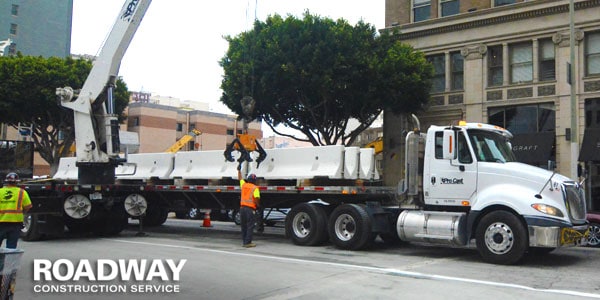 Once a plan is approved, Roadway Construction Service has a green light for implementation. Traffic barricades now can be deployed. But these barriers don't work alone when assisting with work zone traffic control. Also necessary is the human element – our work zone flaggers. These experts are true heroes of the highway. Combining keen eyesight with quick reflexes, they monitor road conditions with unfailing precision. They not only keep tabs on traffic flow; they also keep an eye on changing conditions.
When called for, work zone flaggers relay warnings and other information to each other, as well as to passing motorists and even pedestrians. They even use a unique, personal instant messaging system for communication – flag and hand signals. Not exactly high-tech, but very effective … just like all our other traffic control solutions.