Traffic Management Services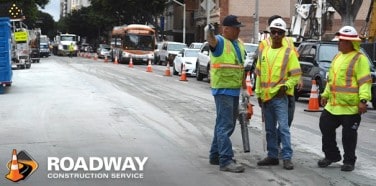 It's hard to imagine traffic management services more thorough than those of Roadway Construction Service. To say we do it all is an understatement. Whatever your need, whatever the scope of your project, you can count on us for an array of reliable solutions expertly implemented.
Call: (855) 907-7233
Let's begin at the beginning — with customer service. Roadway Construction Service realizes the importance of solid relationships with every client. To that end, we've developed a team of consultants who understand both the ins and outs of traffic control services — and the nuances of customer needs. By keeping both in critical balance, we consistently build a bridge of trust between clients and ourselves – an indispensable steppingstone to any productive partnership.
Once a customer bond is established, the road is clear for effective traffic control solutions. Helping us in this endeavor is a wealth of expertise and experience, both of which have served us well for many years. Thanks to this foundation, Roadway Construction Service can field a wide range of jobs. From keeping parade routes safe to managing flooded streets fed by burst water pipes, we respond in a flash with ready solutions.
Traffic Management
No matter what a project's scope, safety is a paramount concern when we're on the job. Fortunately, our traffic management service excels in this department. To protect both people and property, we implement a variety of carefully selected solutions geared to existing conditions.
Traffic barriers are among these solutions. This hardware can range in size from the wall-like k-rail to high visibility traffic cones. No matter what the dimensions, however, each of these barricades must be precisely chosen to match each situation.
Traffic Control Planning
That's where in-depth planning enters the picture. The first step in every traffic control project, the planning phase is led by our expert team of strategists. Juggling a multitude of variables, this savvy group must devise a sound traffic control plan for every project. This blueprint addresses an array of details, including anticipated weather, traffic flow, and potential hazards. Looked at in the aggregate, these variables determine the choice and deployment of traffic control hardware and personnel.
Road Traffic Control Services
While planners are a key component of effective road traffic control, another facet of our team deserves equal recognition. This group is comprised of traffic control flaggers. How important are they? Put it this way – without these experts in the field, a truly secure system would be impossible. Hardware covers many bases, but not all. The remaining gaps can be remedied only by human intervention. That's where flaggers come in. Communicating with both hand and flag signals, they do what signs and barricades can't. Thanks to their intensive training, our team does it with uncommon skill — which puts them first in their class throughout Southern California. Too much is at stake to go with anything less.
You might say that Roadway Construction Service takes street traffic management very seriously. Which is why we go all out on every project, from beginning to end. There's simply no other way to provide effective, reliable traffic management services to the bustling and sometimes surprising streets of Southern California.