Leading the Charge for Efficient Traffic Management in California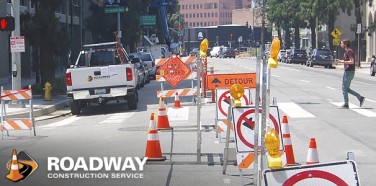 At Roadway Construction Service, you might say we're leading the charge for efficient traffic management in California. That's probably because we're all such sticklers for efficiency. We have one major aim – to complete every traffic control project on time and on budget while maintaining the highest safety standards throughout. To achieve this, we rely on four key assets – knowledge, skill, experience, and dedication. Together, these assets lay the groundwork for success on every project. Which means clients can select us with full confidence.
Call: (855) 907-7233
More than any other characteristic, versatility distinguishes our brand of efficient traffic management. Just look at what's on our plate. On any given day, Roadway Construction Service might be called upon to tackle a diversity of projects. Take detours, for instance. We often set these up when there's an urgent need to divert traffic. Why? Maybe a major construction project is underway. Or possibly a public event will take place. All require some means of steering traffic from restricted areas. That's where we come in.
Sure, nobody likes a detour. They cause delays and frustration. Nevertheless, sometimes they must be utilized. Roadway Construction Service is the best company to do that.
Traffic Control Detour Management California
In many cases, detours and other traffic control measures require lane closures. For this, Roadway Construction Service deploys various solutions, such as road barriers. Here, we have many choices, depending on the nature of the project and other parameters. Our team might, for instance, need a high visibility warning mechanism that guides traffic through proper channels. Ideal for this purpose are traffic cones. Sure, they're small. But they get the job done.
Road Traffic Control
Of course, many road traffic control situations call for much larger barriers. Roadway Construction Service is ready. The biggest we've got is k rail (or Jersey barrier). When it comes to keeping traffic out of restricted zones, nothing beats the wall-like k rail.
K Rail Road Barrier Rental and Management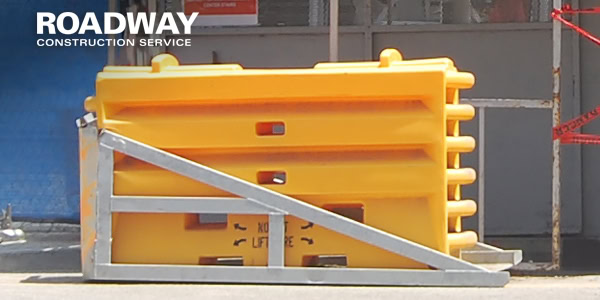 Fortunately, this barricade comes in two forms. Concrete works for long-term projects, given the heavy weight of its compositional material. Plastic Jersey barrier, on the other hand, is ideal for short term projects. It's easy to see why. This k rail is made of portable plastic segments, which are filled with water to create solidity. No matter which type we use, one fact stands clear — k rail is the most reliable solution when traffic must be contained.
Efficient Traffic Control Company
Efficient traffic control services don't originate in the field; they originate in our special planning facilities. Here, top-flight strategists tackle the task of devising airtight traffic control plans. This involves assessing a project site, analyzing all conditions, and formulating a suitable strategy that maximizes safety and efficiency. But that's just what you do as a member of an exceptional traffic management company committed to exceedingly high standards.
All of these advantages add up to maximum efficiency. A good reason to make Roadway Construction Service your go-to California traffic control company. Even if your project takes place in sprawling Los Angeles. No worries. As with all other regions, we provide exceptional Los Angeles traffic management backed by incomparably efficient solutions. Just one more example of why we're leading the charge for efficient traffic management in California.