Traffic control companies can be seen in a variety of ways, depending on the solutions they're providing. For instance, when a lane closure is required, clients might view the provider strictly as a lane closure company. Roadway Construction Service often is seen in this light. That's because we do more than our fair share of lane closing during any given year. And since we've got this very handy experience under our belts, we know the territory inside and out. This accumulated knowledge is a major benefit to our clients, who can count on us for timely, responsive service that minimizes costly hassles and delays.
Call: (855) 907-7233
When does our skill as a lane closure company come into play? A variety of situations call for this service. And not every situation is foreseen. For instance, who occasionally hasn't come across a load of spilled debris on a road or freeway? Happens all the time. Sometimes the spill doesn't occupy a great deal of space. And sometimes it's a major obstruction. In the latter case, a lane closure or two often is needed to redirect traffic while clean-up crews get busy. That, of course, is only one of many possible situations requiring closure. They also may be implemented for construction projects, public events, and many other needs.
Temporary Traffic Control
The primary purpose of a lane closure is to assist with temporary traffic control. Often, traffic and pedestrians must be separated from certain areas — like those occupied by work crews or those made dangerous by hazards such as the debris mentioned above. Closures often are implemented at construction sites, making them vital when traffic control for construction is required.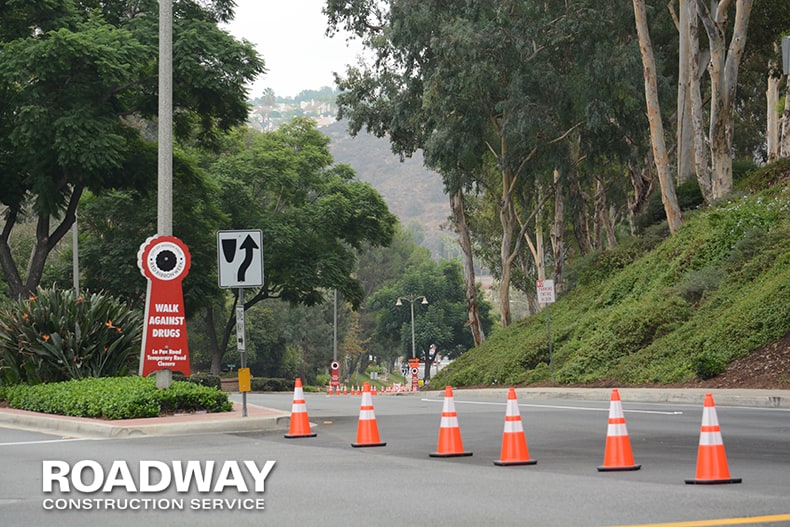 Two primary assets are employed when lane closures are utilized for traffic control. The first is the hardware component. For this, a variety of vehicle barriers might be used. These define restricted areas and redirect traffic to maximize safety.
Traffic Control Barriers
Roadway Construction Service has a wide range of vehicle barriers at its disposal when providing lane closure services. K-rail or Jersey barrier is deployed if a large, wall-like structure is needed. On the other side of the spectrum are traffic cones, which we utilize when compact, high-visibility barricades are indicated.
Traffic Flaggers
The second asset is our team of traffic flaggers, who use flag and hand signals to 'talk' to each other as well as to guide motorists and pedestrians. The communication skills of these traffic guards are indispensable for maintaining the safety of any area impacted by lane closure.
As with all our other traffic control services, the implementation of lane closures requires carefully developed traffic control plans. During the planning stage, our team must secure all applicable traffic control permits. Our familiarity with a broad range of municipal codes and regulations, therefore, is crucial. Thanks to our knowledge of this legal landscape, we ensure our plans readily conform to local requirements. No delays. The result is consistently timely acquisitions of all needed permits.
From planning to deployment, Roadway Construction Service has all the bases covered when traffic must be restricted for any reason. Thanks to this thoroughness, you confidently can rely on us as your go-to lane closure company. Just ask any of our very satisfied clients.