Portable Barricade Rental and Management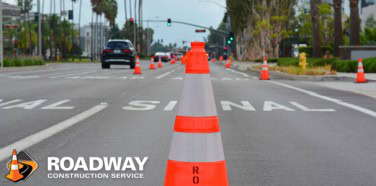 When a situation demands reliable traffic control, many solutions must be implemented. Among these are portable road barricades, which keep motorists and pedestrians safely separated from restricted areas. At Roadway Construction Service, we've developed a unique system of portable barricade rental and management to meet this need. You can count on our team to ensure exceptional results. We have the experience, the know-how, the dedication, and the energy to get the job done right, no matter what the scope or timetable. Just ask any of our clients.
Call: (855) 907-7233
Many considerations come into play when selecting a configuration of traffic control barriers. One of these considerations is visibility. At first glance, this need seems obvious. Clearly, motorists must see the barriers. But at what distance? Every situation is different, with many variables influencing barricade selection. Generally, visibility depends on two characteristics – brightness and size. To ensure precise selection, we've developed sophisticated strategies to support an acclaimed program of portable high visibility safety barricade rental.
Traffic Safety Barricade Services
Reflectivity is one barrier characteristic that enhances brightness and therefore visibility. Many barriers, whether large or small, feature reflective surfaces that help them stand out at long distances – night or day. Included in this group are traffic cones and delineators, both of which rely on their reflective glow to be noticed. These barriers aren't massive. Nevertheless, because of their noticeability, they're an integral component of our traffic safety barricade services.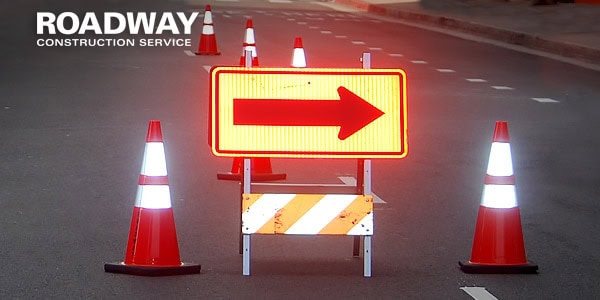 Of course, visibility also may be enhanced by the sheer size of a traffic barrier. When mass matters, our team often turns to the biggest of the bunch – k rail (or Jersey barrier). K rail essentially is a wall, which makes this barricade extremely difficult to miss.
Depending on the situation and project, our program of k rail rental offers two variations of this barrier. For long term projects, we invariably select concrete k rail. Given this barrier's bulk and weight, it's the only solution when a job will span weeks or months.
In contrast, we'll deploy plastic k rail for short term projects. This barrier consists of durable plastic segments, which are filled with water to create a solid wall. Because of its lightweight portability, plastic is the clearcut, sensible choice for short-term duty.
Traffic Control Planning
Naturally, barrier selection demands careful traffic control planning. Fortunately, Roadway Construction Service is bolstered by a traffic control planning department that's second to none. Our master planners, the core of this department, are distinguished by their expertise and responsiveness. You see, they understand the time constraints facing virtually all clients … clients who depend on a quick response to meet grueling schedules.
To ensure quick turnarounds, our planners take full advantage of the solid working relationships they've developed with municipal decision makers. Whether our team must secure city permitting or any other authorization, these relationships help expedite decisions and cut through the red tape typically encountered by other providers. Clearly an example of efficient traffic control services at their best.
Road Traffic Control
It's easy see why Roadway Construction Service gets high marks in the field of road traffic control management. For portable barricade rental and management, or any other services, you can't beat our reliability and responsiveness. No wonder we stand at the pinnacle of California traffic control services – a position we intend to occupy for a very long time.