Traffic Control Safety Equipment
When providing traffic control services, one of the big questions to be answered is this – what traffic control safety equipment should be deployed? Roadway Construction Service devotes substantial time and effort to this crucial topic. As a result, we've developed one of the premier programs of traffic control equipment services anywhere in Southern California. When you're ready to schedule traffic control service, you couldn't ask for a more responsive partner than Roadway Construction Service. We're well practiced in the art.
Call: (855) 907-7233
Among the types of equipment you'll need to deploy are temporary road barriers. No worries about this with Roadway Construction Service on the job. When it's time to rent traffic control equipment from us, we'll be ready to answer the need with a full range of barriers. Roadway Construction Service offers everything from compact cones to delineators to Jersey Wall. Rest assured, all of these barricades are impeccably maintained and ready for action.
Road Closure Services & Equipment
In what situations is traffic control equipment deployed? One of the most common is a road closure. But long before all that equipment is transported and set up, we at Roadway Construction Service must develop an airtight road closure plan. This blueprint for future action encompasses all the necessary details pertaining to the closing of roads and establishing of detours.
Among these details is the expected traffic flow. To determine this metric, our team runs through a series of intricate calculations that enable them to predict anticipated vehicle volume with a high degree of accuracy. But vehicular traffic isn't the only variable considered at this stage. We also must take into account pedestrians, bicyclists, and any other travelers in and around the vicinity.
Road Closure Permits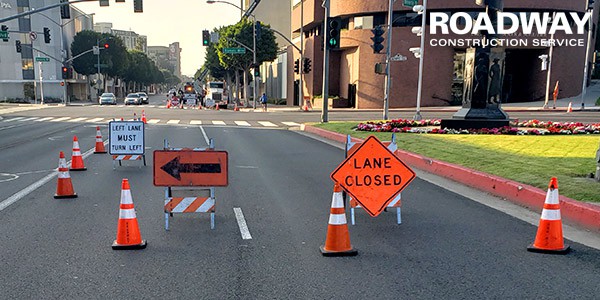 We also must do some calculation to gain permission for a closure. That's right. Before Roadway Construction Service can implement a plan, we must satisfy the requirements of local decision makers. To obtain a road closure permit from this group, Roadway Construction Service coordinates and matches our calculations with all relevant municipal codes. Once this procedure is complete, we're ready to present our plan proposal. We're pleased to say we invariably obtain timely approvals. This fortunate circumstance is more than the result of careful planning. The quick approvals also are a consequence of our long-standing professional relationships with many of So Cal's key decision makers. We know their priorities and therefore consistently meet their expectations. This is just one more dimension of our highly responsive program of lane closure management.
Traffic Flaggers
Naturally, people as well as traffic control equipment figure prominently in the development of any road closure plan. Among the most important of these individuals are traffic flaggers. Highly trained through our proprietary educational program, our flaggers are expert communicators who can respond effectively to virtually any situation. This applies not only to the situations they expect; it applies to those little surprises that invariably crop up from time to time.
You can say that traffic control safety equipment is really part of a bigger picture at Roadway Construction Service. To make everything work smoothly, we coordinate equipment deployment with all other components such as traffic planners and flaggers to arrive at an ideal comprehensive solution for all needs and circumstances. And it doesn't stop there. You can count on this unique level of thoroughness, no matter what services are provided by Roadway Construction Service.