Pedestrian Control Service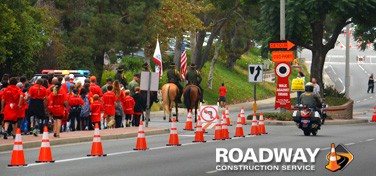 Here in Southern California, construction projects seem to be everywhere, with more and more launching every day. Yeah, the roads are mighty busy. And where it will end, nobody knows. There is, however, once certainty in all the activity – every one of these intensive projects will require a suitable pedestrian traffic control service to protect certain people traveling in and around the vicinity. Roadway Construction Service provides this service, combining thorough training, dedicated professionals, and unparalleled expertise to ensure maximum safety for all passersby.
Call: (855) 907-7233
Construction projects, of course, are only one of many situations requiring an effective pedestrian control service such as ours. Many other projects, including special events, often need reliable pedestrian protection. Therefore, flexibility is crucial. No problem. Roadway Construction Service is ready for anything.
Jersey Barriers & Traffic Barrels
One reason that we're so well prepared is our depth of resources. Let's start with the basic equipment needed for pedestrian control. You can rely on us to deploy the best. Whether we're talking about wall-like Jersey barriers or traffic barrels, the hardware we deploy is unsurpassed for performance and reliability.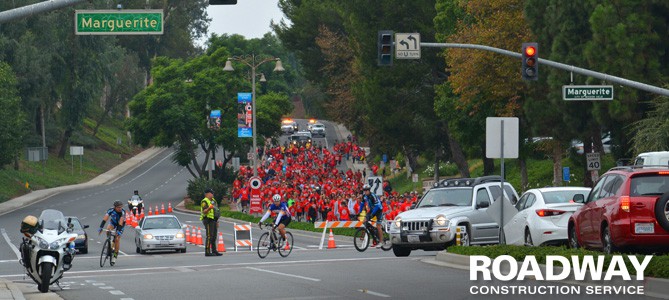 Guiding Pedestrians on A Specific Course
More compact forms of hardware also have a role to play in our system of pedestrian control service. For instance, when the situation calls for it, we are ready to supply a wide range of delineators. These are sturdy posts used as a directional tool, guiding pedestrians to travel a certain course. Delineators have the advantage of being highly visible thanks to their bright, high-glow coloring – which often is orange. The same high visibility hues are evident in traffic cones, which also are used for guidance as well as establishing visible barriers for both pedestrians and motorists.
Perhaps the most uniquely-shaped traffic control hardware in our inventory are A-frame barricades. Commonly seen in a variety of situations, these barricades are distinguished by upright supports shaped like an 'A'. Hence, the name. These barricades are especially useful at night, as they can be equipped with flashing lights for enhanced visibility. Made of metal or plastic, they are a staple in our inventory of pedestrian control equipment. As with all other hardware supplied by us, the emphasis with these is flawless performance and maximum safety.
Not all protection comes in the form of barriers, however. Certain solutions require pedestrian participation. These are the safety signs generally set up at strategic spots in a work zone. The signage provides important guidance, signaling pedestrians to travel in a certain direction or to avoid specific hazards.
Pedestrian ADA Barricades
Roadway Construction Service is aware of the changing needs of society, an awareness clearly evident in our pedestrian control strategies. For instance, we have developed a highly responsive process for the selection and deployment of ADA barricades as part of our comprehensive program of pedestrian control services.
Clearly, Roadway Construction Service addresses the needs of everyone when providing traffic control solutions to the Southern California community. Not only do we promote the safety of motorists and work crews, we also provide substantial protection to pedestrians with our acclaimed pedestrian control service. One more reason why we're the traffic control service all of Southern California can depend on.