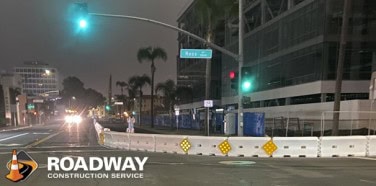 A sound strategy… it's important for virtually any serious endeavor. This importance certainly holds true in the realm of traffic control. To ensure maximum safety and unhampered traffic flow, an airtight traffic control strategy is imperative. Fortunately, Roadway Construction Service has the necessary resources to provide all its clients with this vital assurance. Over many years, we've utilized these resources to develop a traffic control planning organization unequaled in the science of strategy formulation and deployment. In large part, this welcome result is the foundation of our outstanding reputation.
Call: (855) 907-7233
As you might expect, the outcome of our emphasis on sound strategies is an offering of highly reliable traffic control services. We like to think of these services as something very personal – a set of solutions ideally suited to the situation at hand … whatever it may be. But don't think for a minute that we limit ourselves to the public domain. Roadway Construction Service also supplies an array of expert traffic solutions to private entities. To meet this later need, we've developed a highly responsive system of private traffic control compatible with a wide range of projects.
Temporary Traffic Control
What types of projects may come our way? The list is seemingly endless. One of the most common requests we get is to service municipal areas affected by utility issues. Maybe some repair work is being done to restore power lines. In that case, temporary traffic control will be needed to maintain order and safety on the local roads and in the general vicinity. Not to worry. Roadway Construction Services has the proven capability to deploy a variety of utility traffic services to any affected area. While the repair work is being performed, you can bet our crew will keep the situation well under control.
Traffic Control Road Barriers
When providing road traffic control, Roadway Construction Service has many tools at its disposal. Among these are road barriers. These barricades range in size from the very compact to the massive. An example of the former is the ubiquitous traffic cone, visible from long distances thanks to its glowing coloration. On the other end of the spectrum is the large, wall-like structure known to the industry as k rail. Or Jersey barrier as some people prefer to call it. Either way, thanks to its size, this barrier is unfailingly effective at keeping traffic out of restricted areas.
Road Detour Management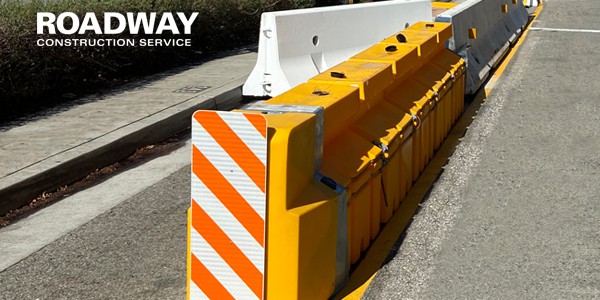 One of the typical situations in which k rail proves indispensable is the detour. As part of our road detour management plan, we'll often order a lane closure or two. For this, jersey barrier is a crucial element for the implementation of our strategy.
Road Traffic Management
Of course, road detours are just one of the many situations we might face. But no matter what our team happens to be dealing with, our acclaimed traffic management strategies will provide a dependable blueprint for success. Temporary or long-term, urban or rural, expected and unexpected – every type of project is in reliable hands with Roadway Construction Service at the helm thanks to our knack for thorough planning. That's something you can count on year after year.