Traffic Control Protection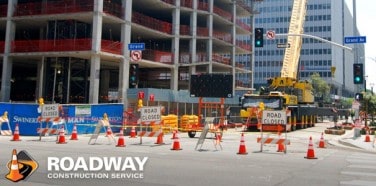 What's the first thought that comes to mind when you think of a traffic control company? For most people, it would be protection – a company in this demanding line of business should protect people and property from the hazards intrinsic to projects and events impacting public streets. Roadway Construction offers the high level of protection required and expected in a busy region such as Southern California. We've been practicing our craft for many years. Therefore, we know the roadways, the conditions, the traffic flow, and every other detail relevant to the maintenance of safe, secure streets.
Call: (855) 907-7233
Construction Zone Traffic Control
Effective traffic control protection may be required in a variety of situations – some known ahead of time; some emerging as complete surprises. A construction zone is one of these situations often dealt with. While all that hammering and drilling is taking place, whether for commercial or residential structures, traffic and pedestrians invariably must be diverted from the busy hub of activity.
For this purpose, Roadway Construction Service has transformed work zone traffic control services into an art and a science. Thanks to our knowledge and natural instincts, we consistently implement reliable strategies that set new standards for construction zone traffic protection. Whether you're a member of the work crew, a casual passerby, a hurried motorist, sightseeing bicyclist, or even a household pet out for a stroll, you'll be comfortably safe when we're tackling a job.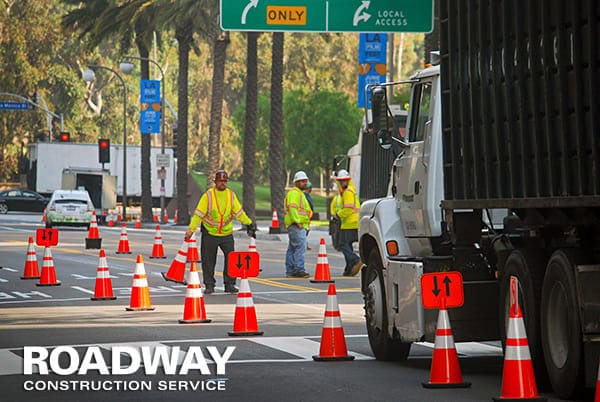 Temporary Traffic Control
To implement our temporary traffic control strategies, we rely on two primary assets. One of these is personnel, consisting of strategists in the planning office, as well as dedicated flaggers stationed in the field.
The other asset is best described as traffic control equipment. Admittedly, this is a broad category that might include a wide range of non-household items. Which ones get selected and implemented is largely a matter of careful evaluation – each piece of hardware has a different purpose and suitability to a specific situation or situations. Hence, the need for a planning team that knows the territory inside and out. Fortunately, Roadway Construction Service has such an all-star team.
Among the hardware choices available to our team is a fine collection known as road barriers. A major advantage of these traffic barricades is their versatility, as they're available in sizes ranging from the large to the compact.
The biggest of the bunch is a barrier known as k rail (or Jersey barrier). Depending on a project's time frame, we may deploy concrete k rail or plastic. Concrete is used for long term projects, while the lighter plastic, being comparatively simple to set up and disassemble, is deployed for short duration tasks.
Don't be concerned by the plastic structure; this barrier is solid, strong, and well up to the task of supplying reliable protection. Strength is provided by an inner chamber, which is filled with water to create a wall-like solidity. As with its concrete counterpart, very little is getting past the defensive line of plastic k rail.
Pedestrian Traffic Protection
One of the common uses of road barriers is setting up lane closures. Providing both pedestrian traffic protection and vehicular traffic protection, such closures often are established to safeguard construction work zones, public event locales, and other busy areas.
No matter what the need, Roadway Construction Service provides traffic control protection that consistently meets the highest standards. From hardware to personnel, our solutions are something you truly can feel safe with.