Work Zone Traffic Management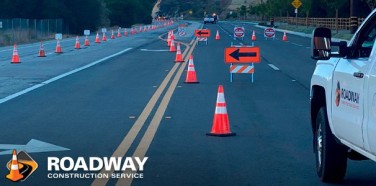 With summer here, the Southern California roads are busier than ever – despite fuel costs. Plenty of traffic. And plenty of heavy work is taking place. To protect vehicles and work zones during this hectic period, reliable work zone traffic management is a must. Look no further than Roadway Construction Services to provide the needed traffic control. Don't worry about dependability. We've accumulated a wealth of experience preserving order and safety at work zones – sometimes in less than friendly weather. This experience has made us who we are today – responsive, reliable, and by the end of the day, extremely worn out.
Call: (855) 907-7233
For Roadway Construction Service, work zone traffic management begins with a traffic control plan. A rock solid blueprint of the work environment and all solutions to be implemented. What do we consider at this stage? A variety of variables enter the picture. These include work site conditions, hazards, scope and nature of work, anticipated traffic (vehicular and pedestrian), forecast weather, required equipment, transportation, and sundry other details known to impact the situation.
Traffic Control Permits
Also covered at this juncture is the acquisition of traffic control permits. To gain these indispensable authorizations, our traffic management team must craft proposals that cover all the bases, satisfy all requirements, and meet all codes. It helps to have an outstanding, long-term work relationship with a wide range of municipal decision makers. Thanks to this valuable connection, our strategists can anticipate expectations and deliver precise solutions. The upshot? Permits generally are secured in record time. Delays? … What are those?
Work Zone Traffic Control
Clearly, an airtight plan is indispensable. But the real test comes when the strategy is implemented to provide the actual work zone traffic control. On that day, all solutions etched into the plan are deployed. Among the possible solutions are temporary k rail barriers. Generally, they are utilized when a situation calls for a wall-like barrier. For instance, our traffic control strategy might include temporary lane closures. These require barriers capable of keeping traffic within certain boundaries and out of restricted areas. The wall-like k-rail (or Jersey barrier) is the perfect candidate. Depending on a job's duration, we'll deploy either concrete k-rail (for long-term projects) or water filled plastic k-rail (for short term). Both are well-suited to the job.
Traffic Barrier Rentals
Roadway Construction Service also deploys a variety of smaller traffic barrier rentals, as a situation demands. These include looper cones, one of the various channelizers we utilize in work zones. Made of reflective plastic and standing about 42" high, these cones are easily transported and set in place. Channelizers such as these typically guide vehicles through specified routes.
Maybe you require equipment only. You're in the right place. Roadway Construction Service offers clients traffic control device rental for every situation. From k rail to looper cones to everything in between, the solutions you need are readily available through this highly responsive program.
Traffic Control flaggers
Of course, equipment can't do it alone. Also needed are personnel with the skills to maintain order and safety under challenging conditions. For this duty, Roadway Construction Service relies on its team of exceptionally great traffic flaggers. Adept in any work zone, they guide drivers, pedestrians, and crews with a mixture of flag and hand signals.
Clearly, our brand of work zone traffic management merges planning, equipment, and personnel to provide solid solutions for all situations. Sure, maintaining this balance is a challenge. But thanks to our abundant experience and knowledge, we consistently meet this challenge with flying colors. We're sure our clients would agree.