Construction Traffic Management Planning and Service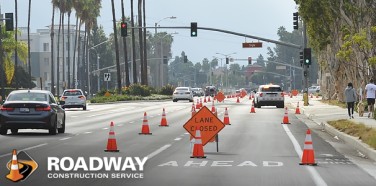 Even with construction projects cropping up everywhere, traffic somehow keeps flowing throughout Southern California. Is it magic? No, it's reliable construction and traffic management planning and service. And where do you go for ultimate reliability? Look no further than Roadway Construction Service.
Call: (855) 907-7233
Maybe it's our expertise – we have skill and knowledge that would impress the pickiest. Or maybe it's our experience – we've logged years and years of it. Or could it be our unwavering dedication? Nobody has more than us. Most likely, however, it's all the above.
Construction Traffic Control Plan Services
Many moving parts drive our system of construction traffic management and service. What moves first is the planning process. Fortunately, we have the best construction traffic control plan services on the planet. Seasoned and savvy, the strategists compromising our team have a firm grip on every aspect of the process. They understand the myriad variables relevant to traffic control. Rest assured, that's quite a bundle. The list includes expected traffic flow fluctuations, project conditions, and weather patterns. It all must be factored in when planning for a construction project.
Traffic Control Permits
Also important are those authorizations known as traffic control permits. These must be acquired before a project moves forward. Unfortunately, snags often emerge during the permit acquisition stage. To avoid snags, a planner better knows the applicable municipal codes — and how they impact a project. Plans must conform to these codes. If they don't, you can forget the permit – and forget about launching your traffic control project. It's not happening. Back to the drawing board until you get it right.
Traffic Control Planners
Fortunately, our traffic control planners have the permitting process down to a science. In fact, they know it inside out. Furthermore, they also know many of the municipal decision makers – and what these decision makers expect before they'll grant a permit. And what they expect, is what we deliver. Meaning permits are quickly granted and delays are rarely an issue. With Roadway Construction Service in your corner, your construction project will be off to a running start.
Along with acquiring permits, our traffic control planning department addresses an array of other needs. One of the big ones is barricade deployment. Traffic control barricades are essential to the maintenance of safety and efficiency during any construction project. The big question often is – which traffic barriers should be utilized? The answer depends on work site conditions.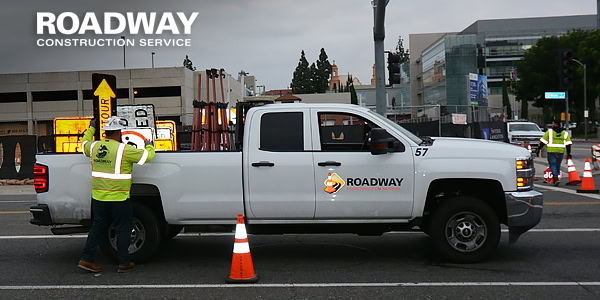 For light duty, traffic control cones often get the assignment. These barriers offer two significant advantages. First, being light and compact, they're comparatively easy to set up. And second, thanks to their bright coloration, they're comparatively easy to see.
What isn't so easy to set up is the traffic barrier known as k rail. This is the barricade of choice when a wall is needed to keep traffic out of unauthorized zones. Because of its strength, K rail (or Jersey barrier) is a crucial component of our municipal traffic control service, whether we're assisting a construction job, a public event, or any other project.
Traffic Control Flaggers
Traffic control flaggers also play a vital role in our traffic management strategies. Thoroughly trained through our proprietary program, they're experts at relaying signals to each other or to passing motorists. To get their messages across, flaggers use crisp hand and flag signals.
So there it is. When you need reliable construction traffic management planning and service, you can count on Roadway Construction Service. Not only are we backed by solid experience and skill, we're found all over Southern California. We offer traffic control service in Los Angeles County, traffic control service in Orange County, traffic control service in Riverside County, and traffic control service in San Bernardino County. What could be more convenient?