Construction Traffic Control Plan Services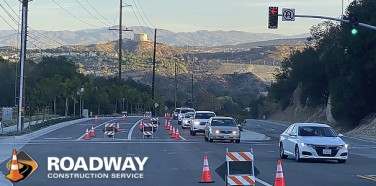 When does a traffic control for a construction project begin? Many people would say it's the moment personnel and equipment arrive on the scene. Seems right. But this answer is way off. That's because maintaining order in a construction zone is like many other projects – plans must be developed before the show can begin. For this preparatory process, it's hard to beat the developmental proficiency of Roadway Construction Service. When our team develops a construction traffic control plan, it does so backed by consummate skill and in-depth experience. Now if you factor in the team's unwavering commitment to safety, you have all the ingredients for success.
Call: (855) 907-7233
When devising a plan for construction traffic control, our strategists consider a wide range of variables. One of these is expected project duration. This, on the surface, might seem trivial. In reality, it's huge. Why? Because duration determines the type of traffic barriers deployed. As an example, consider how we decide between concrete k rail and the water filled variety. Traffic control planners must evaluate the parameters. Long term projects require concrete k rail since this heavy material takes comparatively longer to move and set up. You want to leave that barrier up for a while.
Traffic Barrier Management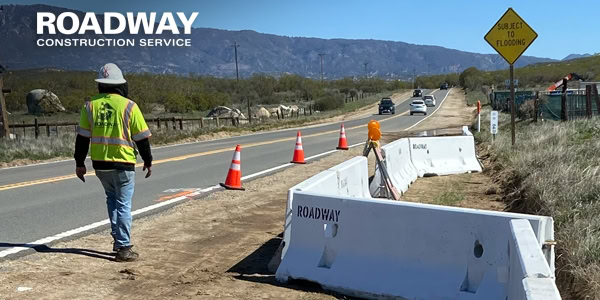 When the project is short-term, our traffic barrier management team weighs the alternative – plastic k rail. For the convenience of crews, this barrier is made of interlocking plastic segments — comparatively easy to transport and set up. Where does this barricade get its strength? Each segment has a hollow chamber that is filled with water to create solidity.
So – concrete or water-filled? The traffic control planning team must evaluate and decide. And they must do likewise for all other barriers under consideration. Crunch the numbers and make the right choice. Just another day for our illustrious traffic control device management service.
California Traffic Control
Not surprisingly, our planners are equally meticulous when diving into the other critical variables of the traffic control planning process. Among these variables is code compliance. That's right. When providing traffic control for construction projects, Roadway Construction Service must ensure all plans accord with the municipal codes applicable to the construction zone. Success in this area requires in-depth knowledge of local ordinances and rules. Fortunately, our planners are well-versed in this area, thanks to both extensive experience and thorough training.
But in this league, moving the ball across the goal requires more than knowledge – it also requires strong, productive working relationships with local decision makers – the people who say yay or nay to the plans we've worked so hard to develop. Fortunately, the Roadway Construction Service team has, through years of experience, established these vital relationships. The big advantage here is quick turnaround times – we know what the decision makers expect, and we readily accommodate. Thus, our strategists avoid the delays of bureaucratic red tape and generally launch projects in record time. Which is great news for clients who might see their budgets busted by even a slight delay.
It's clear, then, that successful implementation of traffic control services for a construction project begins with a powerhouse traffic control construction plan. Exactly the kind consistently developed by Roadway Construction Service.
There is, however, another major advantage to choosing us as your California traffic control planning service. That advantage is our widespread coverage. You see, we offer exceptional Los Angeles traffic control planning service, Orange County traffic control planning service, Riverside County traffic control service, and San Bernardino traffic control service. Guess you could say we really go the distance.