Municipal Traffic Control Service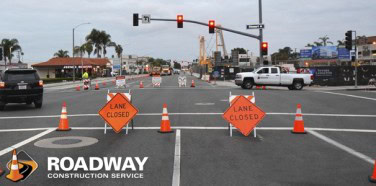 When you must maintain order and safety during a construction project, there's one company you can count on for expert municipal traffic control service. That company is Roadway Construction Service. Not only do we provide unparalleled expertise, we also provide exceptionally wide coverage to the Southern California area. Our company offers traffic control service in Orange County, traffic control service in Riverside County, traffic control service in Los Angeles County, and traffic control service in San Bernardino County. Yes, we have the state extremely well-covered.
Call: (855) 907-7233
An ability to get around, of course, is only part of our compelling story. An equally important part is our acclaimed reliability. When you select Roadway Construction Service as your road traffic control solution provider, you'll get a partner committed to getting the job done right.
Traffic Control Planning & Flaggers
It all starts from the beginning – with a thorough training process. Anyone who wants to play on our team must participate in our proprietary training program. This rigorous educational regimen prepares students to tackle even the most challenging situations. From traffic control planning to traffic control flaggers, our graduates are exceptionally qualified for the challenges ahead.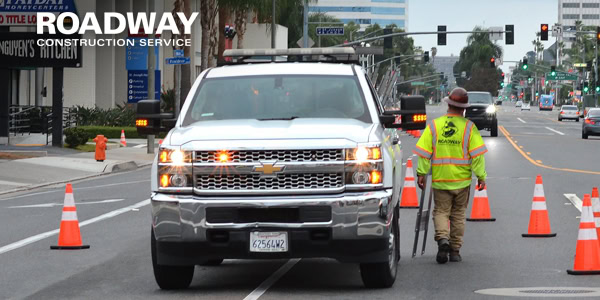 Once deployed, the members of our team rely on a wide spectrum of skills. Take, for instance, our traffic control planners. They bring to the table an uncanny ability to achieve two primary objectives. The first is protecting people and property through a systematic deployment of proven safety measures. The second is maintaining orderly traffic flow on all levels – vehicles, pedestrians including ADA Barricades, bicyclists, and yes, when applicable, family pets out for a stroll. It's all a reflection of our comprehensive approach to traffic safety and efficiency.
Traffic Control Barriers
One critical area of focus for our traffic control planning team is the deployment of barricades. These road traffic control barricades have the crucial job of keeping vehicles and sometimes pedestrians out of unauthorized areas, such as construction zones. To select the proper barricades, planners must weigh a wide spectrum of variables before committing to particular choices. And there are many of them. Barricades come in a variety of shapes and sizes, each with its own function.
On the compact side are the traffic control cones. Not exactly the biggest in the bunch, they're nevertheless highly effective thanks to their glowing coloration, typically orange or yellow.
K Rail Rental Management
In contrast, strength and mass are provided by k rail (or Jersey barricade). Basically a wall, this traffic barrier is the solution of choice when ultimate protection is required. When considering this barricade, our traffic control planners invariably choose between two types – concrete or water filled plastic, depending on need and situation.
The effectiveness of barriers is supplemented by the skills of our traffic control flaggers. This team utilizes a unique communications process – a combination of hand signals and, you guessed it, special signal flags. Using these two communications methods, our flaggers consistently ensure the upmost safety and efficiency on the roadways of Southern California.
Traffic Control Services
In what situation might we deploy our traffic control services? There's quite a range. Roadway Construction Service provides traffic safety solutions for everything from major construction projects to special events, like parades. Big or small, however, every job we tackle gets an incomparable level of attention from our acclaimed team.
So, where is your project located? Orange County, Riverside County, Los Angeles County, San Bernardino County? Roadway Construction Service offers exceptional municipal traffic control service in all of these regions – and sometimes beyond. It's all part of our commitment to serve the golden state to the best of our ability.