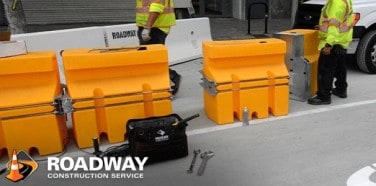 Can you imagine all the Southern California construction projects without the benefit of traffic control? Don't even try, unless you prefer visions of chaos topped off by traffic snarls for miles in every direction. The good news is, this will never happen so long as the region is serviced by dedicated providers such as Roadway Construction Service. We keep the situation well under control through a combination of expert personnel and skillfully deployed hardware, which can take many forms. One of the more unique among these is the type of hardware known as water filled barriers for all sorts of traffic control.
Call: (855) 907-7233
As with all other road barriers, it's crucial to know exactly how and when to deploy water filled barricades. No question about it, they are convenient traffic control barriers. In contrast to the typical barricade, which usually is a solid mass of material, the water-filled variety is made of plastic (essentially a shell) and has a hollow inner chamber. When ready for action, the chamber is filled with water to provide strength and solidity to the hardware. Typically, we use gallons and gallons of H20 to fill the typical plastic barricade.
Water Filled Barrier Management
Does this sound like a great deal of trouble to go through when deploying road barriers? Actually, the opposite is true. Being made of plastic, this hardware is comparatively easy to transport, carry, set up, and disassemble. Basically, we use it for temporary traffic control, which may be taking place for anywhere between a day and a week or so. A holiday parade, for instance, is an event that might benefit from the usage of water filled barricades, which can be up and down in a flash.
Achieving the same level of protection with a solid barricade would require many more hours for transport and setup. Consequently, the job would incur a greater cost based on added work time. Clearly, the plastic barricades provide a cost saving component not available with the conventional type.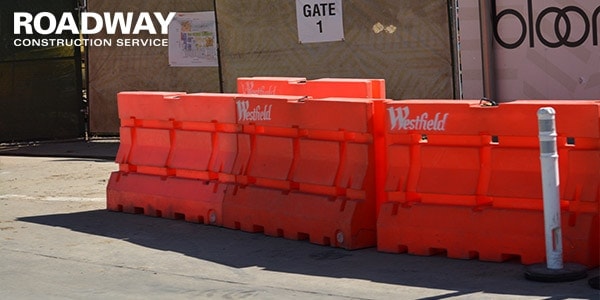 One of the more interesting uses of road barricades is to provide protection to parklets, which are extensions to sidewalks that offer added space to pedestrians. Roadway Construction Service is pleased to say that we offer a program of parklet barrier rentals, which often utilize water filled barricades to maximize public safety.
Naturally, our program of road barrier rentals provides solutions on a larger scale, as well. The largest of these is k rail, the wall-like barrier utilized for the most challenging jobs. It doesn't seem possible that plastic hardware could serve in this capacity. But it often does. Depending on the project, Roadway Construction Service can deploy k rail for a wide range of temporary or short-term projects. In fact, these water filled barriers are a major component of our k rail rental program.
Road Barrier Rentals
All road barrier rentals rely on careful planning to ensure suitable solutions. The rental of water filled barriers are no exception. Fortunately, we boast a top-flight traffic control planning team. Unfailingly precise, they match hardware to worksite parameters, creating the ideal deployment strategy. During this stage, they also engage in the traffic control permitting process, securing necessary authorizations from civic leaders.
The contributions of our traffic control planners underscore the importance of our two primary assets — expert personnel and first-rate traffic control equipment. With that combination to rely on, we'll provide unsurpassed solutions every time.