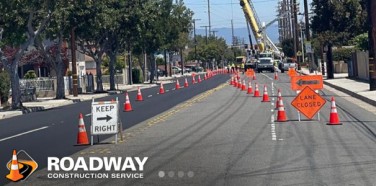 In a bustling locale such as Southern California, establishing effective street traffic control is a major challenge. There are construction projects galore, the occasional surprise such as a burst water pipe, special events, and other happenings that require dependable road traffic control. For this, California can rely on the area's premier service – Roadway Construction Service. Why can you count on us to get the job done? Well, for starters, we're not exactly beginners at this. We've been managing the region's busy streets and highways for quite a stretch. Now add to this unique skill and unwavering dedication, and you have the perfect formula for success. Plus, we just plain enjoy what we're doing.
Call: (855) 907-7233
And what is it that we do to provide reliable street traffic control? Well, there's a wide range of project types that come across the front desk. There may, for instance, be the short-term type – the kind that might last only a couple of days, or less. To tackle this situation, we offer our special brand of temporary street traffic control. Many solutions come into play for these short-duration endeavors. One of these is lane closure, which often are needed to maximize safety. No problem. Roadway Construction Service has perfected the art of managed lane closures, ensuring full-scale protection to people and property.
Street Traffic Management
Whether the project is short-term, long-term, or somewhere in the middle, Roadway Construction Service invariably must deploy traffic barriers as part of our strategy of street traffic management. These barricades range from the compact to the massive, depending on need and situation.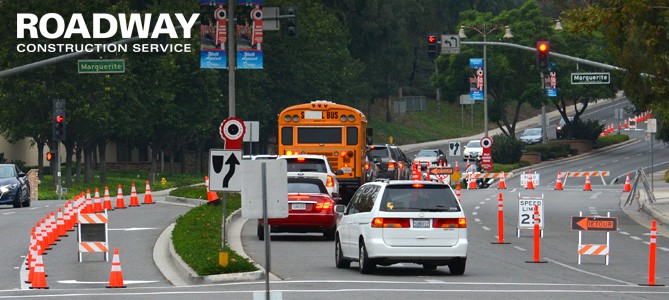 On the smaller end of the spectrum are traffic barrels. Also known as drums, barrels generally are utilized to guide traffic through busy construction zones, or to alert motorists of ongoing construction ahead. One big advantage of these barriers is their visibility, which is guaranteed by their bright coloring — typically orange.
K Rail & Jersey Street Barriers
On the larger end of the traffic barrier spectrum is the mighty k rail (also known as Jersey barrier). Rest assured, you can rely on our program of k rail rental to supply solid solutions when the need arises. That need typically emerges when a wall-like structure is required to keep traffic out of restricted areas. Roadway Construction Service accommodates every need with our program of Jersey barrier rental.
For long-term projects, we generally deploy concrete k rail, which provides rock-solid protection in a variety of conditions. But what if you have a temporary need for k rail? That's easily taken care of. Our plastic shell k rail is champion of water filled street barriers. The big advantage here is that this plastic barrier easily is transported, set up, and disassembled for maximum convenience and cost-effectiveness.
Traffic Flaggers
Yes, hardware plays an important role in our program of street traffic control. It's important to note, however, that people also have an indispensable place in our system. These people, of course, are traffic flaggers. Trained to perfection and ready for anything, these highly qualified traffic guards are a necessary complement to virtually every traffic barrier strategy. Thanks to this synergy, and other factors, we consistently provide the kind of first-rate traffic control known and appreciated throughout all of Southern California.