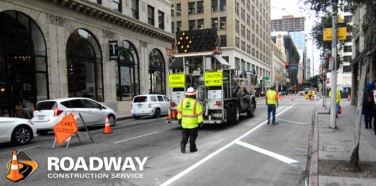 One reason that Roadway Construction Service scores high in customer satisfaction is the confidence we instill in those we serve. People know they can count on us to deliver every time. Much of that confidence stems from the fact that we're a C31 licensed firm. C31 is shorthand for construction zone traffic control contractors license. It provides rock-solid assurance that our team is trained and qualified to plan and implement a variety of traffic control strategies. The license says that we go the distance to maximize work zone traffic safety.
Toll-Free: (855) 907-7233
Just what does a C31 License enable our team to do? Virtually everything in our repertoire. The certification is necessary for the planning and implementation of various actions, including carrying out lane closures and setting up traffic barriers such as cones and delineators.
Work Zone Traffic Control Team
Virtually every member of our work zone traffic control team is qualified by the C31 License. Take, for instance, the traffic control drafter. Basically, this is the job title given to the people who design and draft our temporary traffic control plans. The first stage in a long preparatory process, traffic control planning sets the stage for all work zone operations. Safety, efficiency, and timeliness are major considerations during this phase. Clearly, a major responsibility rests on the shoulders of any traffic control drafter we assign to a project. Because they're fully qualified by a C31 License, our traffic control drafters are more than up to the task.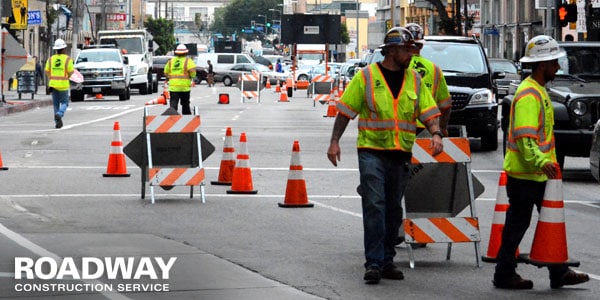 Traffic Control Planning
A traffic control drafter deals with a wide range of variables during the traffic control planning stage. Among these variables is traffic control permitting. When pursuing the acquisition of permits, we utilize both our extensive knowledge and long-standing relationships with key decision makers. This double advantage greatly expedites the process and helps us avoid costly delays.
Another important variable is the selection of temporary traffic control barriers. Our strategists have much to consider when tackling this challenge. In our inventory is an impressive selection of traffic control barricades. From the small to the large, every type in our inventory is ready for action.
K Rail and Jersey Barrier Rental
But which barriers get the call? Our traffic control drafters consistently answer this question with pinpoint accuracy. This professional must examine conditions, circumstances, and requirements before making any selection. In some cases, traffic cones are the best option. In other cases, the required hardware is something much larger – such as k rail – also known as Jersey barrier. This wall-like barrier, however, is available in two different versions. One is the water-filled type, which generally is used for shorter-term projects. For projects of longer duration, concrete Jersey barrier is selected. When playing for our team, a traffic control drafter will make the optimum choice. This accuracy has helped elevate our traffic control device rental program to the highest level.
Once the planning is through and the job underway, a C31 License assures optimum performance from team members in the field. Traffic control flaggers are one of these hard- working people. Trained and qualified to the highest standards, these expert communicators protect motorists, crews, and pedestrians in all conditions. Given their success record, they are yet another example of our ongoing commitment to work zone traffic safety. When it comes to this important objective, you can always count on Roadway Construction Service.