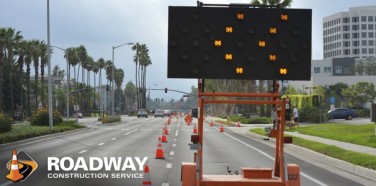 Maintaining safe, orderly traffic flow in Southern California demands the type of expert personnel you'll find at Roadway Construction Service. But along with deploying a first-rate team, we also must protect project areas by deploying various temporary traffic control devices. A common site on the local roads, traffic control devices can perform a variety of functions, ranging from communicating warnings to keeping traffic out of restricted areas. They can be big, small, or medium-sized. They can be brightly colored or electronically illuminated. But no matter what their physical characteristics, these devices all have a crucial job to do.
Call: (855) 907-7233
So what are traffic control devices? Let's take a glance at some of the more common ones used by Roadway Construction Service. Among the more compact traffic safety devices are traffic cones. While they lack the dimensions of other road traffic control devices, cones more than make up for the shortfall with their high visibility. This visibility is the result of bright, reflective coloring, which typically is an eye-catching yellow or orange. Similarly visible are traffic delineators, which are plastic posts set up on roadways or in parking lots to redirect traffic.
Traffic Control Barriers
On the larger side of the spectrum are traffic barriers, which we utilize to prevent vehicles, bicyclists, and pedestrians from breaching designated boundaries. Also known as traffic barricades, these traffic control barriers rely on major strength to do their job. Many of these can be considered traffic walls – they're that big and strong. The largest of the lot is k-rail (or Jersey barrier). Depending on conditions, Roadway Construction service will deploy one of two types. The first, concrete k rail, is made of – you guessed it – solid concrete, creating a formidable barricade against unauthorized intrusions.
Concrete K Rail Rental Services
Because of its material composition, k rail isn't exactly a breeze to set up. It takes plenty of manpower and time to transport and position those heavy concrete segments. For this reason, Roadway Construction Service utilizes this barricade for long-term projects depending on the traffic control plan.
Water Filled K Rail
We do, however, have an excellent solution for short-duration jobs – lightweight water filled k rail. Now, you might be wondering how something made of plastic can deliver out in the field. Well, with this, it's what's on the inside that counts. The plastic makes the barricade comparatively lightweight and easily transportable. But inside each plastic segment is a hollow chamber we fill with water, thereby providing necessary strength and solidity. Believe us, plastic k rail can stand up to anything.
Depending on conditions and needs, we may deploy a variety of other roadway specialty devices. For example, our team often uses traffic channelizing devices to direct traffic through construction zones or away from hazards. One of the most frequently encountered of these is the channelizer drum, which like many of its counterparts, is made highly visible by a reflective orange coating.
Pedestrian Traffic Control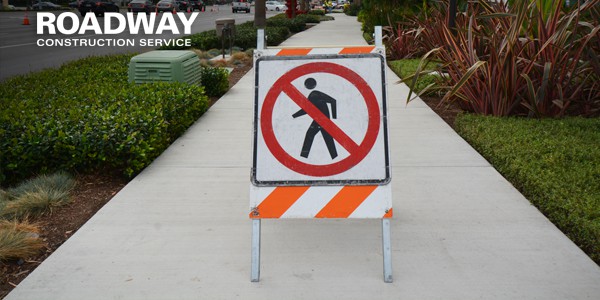 Roadway Construction Service also deploys equipment specifically for the benefit of those traveling on foot. Our pedestrian traffic control channelizing devices efficiently separate those in this group from busy construction zones and other restricted access areas. These exceptionally useful traffic management devices typically are made of reflective plastic segments, which we interconnect to form high visibility walls.
Traffic Control Equipment Rental
And remember, even if traffic control equipment rental is all you need, we'll take care of you with a wide range of industry-leading solutions. We're among Southern California's leading traffic safety devices suppliers. That means full supply. No matter what you're in the market for, Roadway Construction Service can provide you with the various traffic control devices required for your project. Nobody does more or has more than we do.