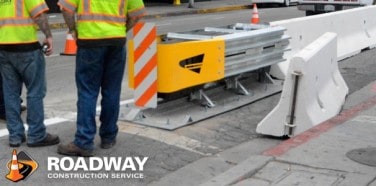 No question about it. When you require maximum protection for a road traffic control strategy, cement barriers often are the best option. And when you need a partner capable of providing this type of protection for a wide range of needs, Roadway Construction Service is the best option. We offer clients a comprehensive program of cement barrier rental with the flexibility to accommodate a variety of projects. Of course, we don't stop there. Roadway Construction Service also offers exceptional service, highly skilled personnel, and a wealth of experience to the mix.
Call: (855) 907-7233
Roadway Construction Service views cement barriers as multi-function solutions. On one level, they function as protection for workers and other people in or near a project zone. At the same time, they help keep traffic away from closed roadways and other no-access areas.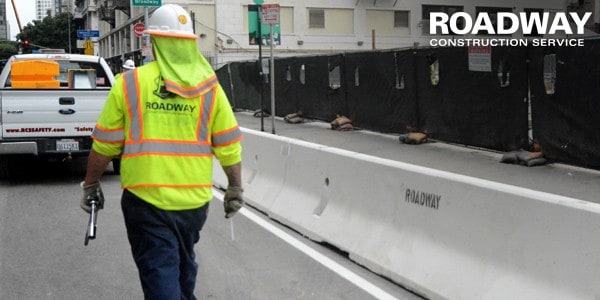 Depending on the project, Roadway Construction Service might choose from several different types of cement barriers. One of the most frequently used are cement barrier blocks. As the name implies, these basically are extremely large bricks. And do they stack up well — literally. That's because our crews stack them on top of each other to form wall-like structures whenever and wherever needed. It's all part of the fun.
When might we implement these brick walls? Most often, they're deployed to keep vehicles and other traffic well out of restricted areas, such as construction zones. Given the size and weight of barrier blocks, setting them up isn't exactly a piece of cake. In fact, the job is a major effort requiring a considerable expenditure of time and energy. Consequently, you probably won't see us utilizing the big bricks for a simple one-day project. No, these barriers are meant for long term duty lasting many weeks, or longer.
Los Angeles Traffic Control
Another cement wall structure we often deploy is concrete k rail (or Jersey barrier). This is commonly seen in densely populated, ultra-busy locales such as L.A. In fact, you might say it's one of the leading Los Angeles traffic control barriers. As with cement blocks, this barricade isn't exactly a featherweight. Therefore, it's used exclusively for long term projects.
K Rail Rental Service
When providing k rail rental services to clients, we must weigh several options before making a decision. This is so because there are two types of this Jersey barrier available for deployment. One, as previously mentioned, is concrete k rail — ideal for long-term projects. But what if the work is of short duration? Maybe a few days. Must we move masses of concrete into place, only to disassemble it all soon after? Not at all. We simply select the best temporary solution. That solution is a portable water filled k rail. Conveniently lightweight, this barrier consists of plastic segments filled with water to create wall-like solidity. How do I know which one to choose? For that, we rely on the impeccable judgment of our k rail management team.
California Traffic Safety Barricade Service
Speaking of teams, none surpass our resident strategists. Experts in their field, they meticulously plan the deployment of all temporary road barriers, including cement barriers. One more reason to rely on Roadway Construction Service for the best in California traffic safety barricade services.